Tennis and kettlebells… how do they get together? You can improve your tennis fitness dramatically and almost instantly.
Many tennis players play tennis to be fit. Besides because they looooooove the game :-)
However, if you want play tennis on a higher level, you have to become fit first. You will need to improve your strength, power and endurance, in addition to flexibility, agility, quickness, coordination and balance. It takes a lot of time and focus.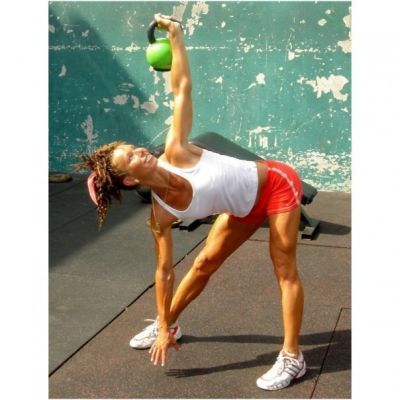 Tennis and Kettlebells
If you feel like you don't have as much time to spend on your tennis fitness training as you wish (and we all feel like this often times), then you could look into kettlebells. The are an amazing training tool that improves almost immediately all the above mentioned elements. You will notice the benefits instantly, only after a few sessions.
A kettlebell looks like an iron cast cannon ball with a handle. Many people call them mistakenly "kettle balls"  :-) They are an ancient tool originating in Russia, where it was a popular training tool among military and strength athletes. In competitive kettlebell lifting, the athletes perform Olympic moves such as snatches and clean-and-jerks, but they do maximum repetition and with one arm only.
Kettlebell swing
Kettlebell basic movement is a swing. You use a short powerful "snapping" movement of your hips to propel the kettlebell, which you hold in your hands, upwards. Performing 20 swings will get your heart rate high up, while simultaneously strengthening your glutes, core, shoulders and actually the entire lower body. You can do two-handed or one-handed swings.
When you master the basic swing with a correct form, you can add more advanced moves such as flips, snatches, windmills and Turkish get-ups. Only 30 minutes of training with kettlebells is extremely intense and you will improve your strength and endurance simultaneously.
Even if you don't get into the more advanced moves, if you just do different variations of the basic swing, you will see great results in your tennis game. Tennis and kettlebells work perfectly in a harmony. Do one-minute intervals (about 35 swings), with 30 seconds rest in between. See if you can do 10 intervals. Your workout is done in 15 minutes and you will be pleasantly surprised how intense it is.
Choose right kettlebells
The great things about kettlebells are that they take very little place and are easy to store and carry. You don't need too many of them either. In the beginning, one can be just enough. Eventually you can have just two and still do amazing workouts.
The kettlebells come in unusual sizes. In Russia, the weight measure was "pood". One pood is 16 kilograms, approximately 35 pounds. The kettlebells come in 1 pood (35 pounds), 1.5 poods (53 pounds), 2 poods etc. Nowadays, more companies make kettlebells in varieties of sizes and colors, such as plain iron, plastic coated kettlebells or bells with a plastic bottom to preserve the indoor floors.
An average woman should start with an 18-pounder, and a strong woman with 26-pound kettlebell. The majority of women will advance to a 35-pounder, ultimately. An average male should start with 35-pounder, a stronger-than-average male with 44-pounder and a very strong one with a 53-pounder. Do not rush to heavier weights; rather increase the number of repetitions, and as a result, you will get an effective cardiovascular workout in addition to improving your strength.
As you advance in your skills and strength, you can combine different moves together into cool looking and efficient sequences: snatch the kettlebell with one hand, do over-head squat, then swing it and flip it, catch it with the opposite arm to swing and snatch it over your head. You can be creative, and your workouts are going to be fun, yet extremely effective. Just like in tennis, there is always something new you can learn with kettlebells. You will never be bored or burned out. Tennis and kettlebells, your love forever.  :-)
You will see that your body composition will change rapidly as well: you will become leaner while maintaining or increasing your muscles mass. On the tennis court, you will notice an improvement in your game only within 2 to 3 weeks into your kettlebell training.
Get your kettlebells and other fitness & injury prevention products at Power-systems.com. Good quality, good price... Use code FITMAS to get amazing discounts until Christmas 2014.
.