This vegan smoothie is another gem in my smoothie collection. So simple and quick to make. It is nutritious, delicious, thick and smooth. You can sip on it when you feel like you need a snack, cake, or ice cream. You can make it thicker and it's going to be like a delicious pudding.
Vegan Smoothie: Oranges, Bananas, Persimmon, Cacao Nibs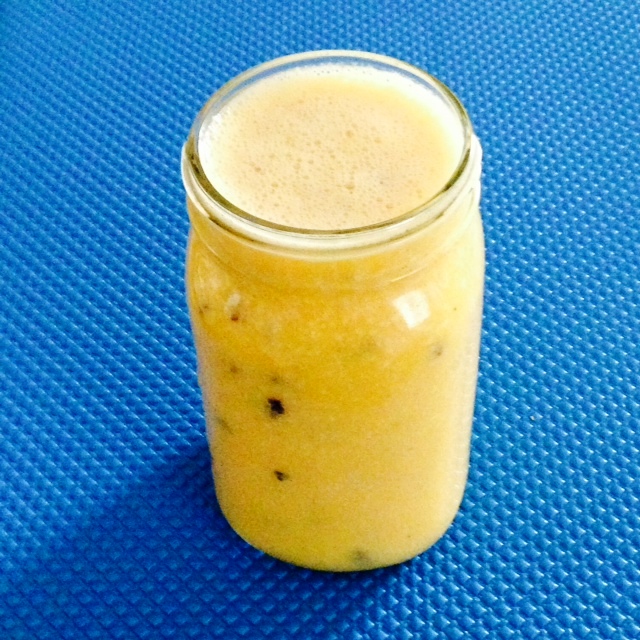 Directions
750 grams oranges (about 5 oranges)
150 grams banana (1 banana)
140 grams Fuyu persimmon (1 persimmon)
15 grams raw cacao nibs (1/2 ounce)
Blend the fruits in the blender (preferably a powerblender). You don't need to add any water because the oranges are so juice. If you want it less thick, add a half cup. When you are done blending, add the cacao nibs and stir. They will remain crunchy and taste like delicious bitter pieces of chocolate. Enjoy.
700 calories
Other yummy vegan smoothies
Good health for maximum performance
For an athlete, good health is the most important prerequisite to maximum performance. Without a healthy body, you will never achieve your athletic potential.
We all like to eat and feel good, but we also want to be fit and healthy, and athletes want to perform at their best and win. Nutrition, more than ever, plays an important role in our well-being and in athletic performance. People and athletes search for different styles of eating to improve health and performance. Some styles may deliver quick results, but they don't last long. One simple and effective way that also makes you feel great is eating plants.
Whole foods plant-based nutrition is not a diet, but rather a lifestyle, a pleasurable way of living life, filling you with boundless energy and a sense of well-being. If you have any physical challenges or illness, you will notice that your body will start healing and recovering. If you need to lose some weight, you will drop the pounds almost in front of your eyes. If you already feel healthy, you will find more energy, restful sleep, and increased performance in your sport or in your life.
.